Grill Cart Side Shelf
Expand the work area on either side of your Grand Mesa, Duo, or Sierra grill carts with this sturdy folding side table.

Features:
Easy install on existing carts
Will work on either side; existing towel bar will not interfere with installation
Utensil hooks
Stows virtually flat


Shown installed on Duo and Sierra carts
Color Choices
See color combinations and order samples here
Cleaning and Care Instructions

Regular cleaning and maintenance promotes the beauty and longevity of your products and ensures a lifetime of use.

We recommend regular care and cleaning of your products to promote product life.

Routine cleaning can be accomplished by rinsing away dirt and debris. Follow this by gently wiping with a damp, non-abrasive cloth or sponge using warm water. Follow this by towel drying to prevent water spotting.
If additional cleaning is necessary, mild soap can be used. Caution – the use of solvents, abrasives, or dish washer detergent will damage the product's finish.
Always test any cleaning solution in an inconspicuous area before applying to the entire product.

Do not store objects on the surface for any extended periods of time as these can trap moisture and debris.


Do not place hot items on any part of the finished surface. Damage created by hot items can be minimized by cleaning and buffing,but will typically never be eliminated. This type of damage will not be covered under warranty.


CAUTION – Ceramic materials and other abrasive textures can cause damage to the painted surfaces.


CAUTION – Take care to never let hot ash come in contact with the painted surface of this product. In addition, wet ash can become corrosive over time, so keep all surfaces free of ash debris.


CAUTION – Appliance and stainless steel cleaning solvents are harmful to your Rock Run Cabinetry product's finish and should not come in contact with the surface at any time. Take care to spray the solvent onto a cloth and wipe only on the appliance surface.

Minimize the natural aging of your product by storing your cabinet in a dry, shaded area to reduce fading. Please contact your dealer for details.

Light or superficial scratches to the finish are likely to occur during normal use and do not affect the integrity of the product.
Shipping

Most Matchless Cabinet orders ship by Less-Than-Load freight, but some items may come by common carrier (UPS, FedEx, USPS).

Items not eligible for free shipping will have shipping calculated and added at checkout.
Warranty Info

The following information applies to products manufactured by Rock Run Cabinetry and sold by Matchless Cabinet.

 

Rock Run Cabinetry - Limited Lifetime Warranty

Rock Run Cabinetry LLC warrants to the original consumer purchaser,
for as long as they own their cabinet, that products shall be free from defects in manufactured materials and workmanship under normal use.


GENERAL WARRANTY GUIDELINES


Should Rock Run Cabinetry LLC products fail during the applicable warranty period due to defects in manufactured materials or workmanship under normal use and in compliance with our Cleaning and Care Instructions, Rock Run Cabinetry LLC, in its discretion, will provide the parts necessary to repair or replace the defective products.


The warranty does not cover products that are misused, abused, mishandled, improperly cleaned, improperly installed, improperly stored, modified or act of God. This warranty is not valid for products used for any
purpose other than the purpose for which they were originally intended. This warranty does not cover the cost of installation, removal, subsequent damage or transportation of defective product, regardless of whether the work was performed by a contractor, dealer, or the consumer.


Rock Run Cabinetry LLC finishes are premium exterior grade finishes. Over time, color changes may result from exposure to light and other elements that are part of the aging process. These material variations and changes are not covered by this warranty. Rock Run Cabinetry LLC warrants to the original consumer purchaser that its finishes are free from defect, including flaking, peeling, cracking, or massive discoloration for a period of 3 years, from purchase, under normal use.


Rock Run Cabinetry LLC reserves the right to provide parts for repair or replacement of the defective parts and substitute any discontinued product with the most similar product in styling, finish and color available at the time the claim is submitted without the obligation to provide product to match items previously manufactured by Rock Run Cabinetry LLC.


Rock Run Cabinetry LLC, at its discretion, will cover freight costs.
All parts are not manufactured by Rock Run Cabinetry LLC are warranted for the period provided by the original manufacturer. These parts typically include most accessories. Please contact Rock Run for details.
The warranty is an exclusive warranty of Rock Run Cabinetry LLC and is in lieu of all other warranties, expressed or implied. In no event shall Rock Run Cabinetry LLC be liable for consequential, indirect or incidental damages resulting from the installation, use or failure of the product. Rock Run Cabinetry LLC reserves the right to change or modify this warranty at any time.
Some states do not allow the exclusion or limitation of the incidental or consequential damages, so the above limitations or exclusions may not apply to you. This warranty gives you specific legal rights, and you may also have other rights that vary from state to state.




Warranty Claims

Warranty Claims should be submitted directly to Rock Run Cabinetry.
Price
Regular price
$219.99 USD
Regular price
Sale price
$219.99 USD
Unit price
per
Choose your options:
Share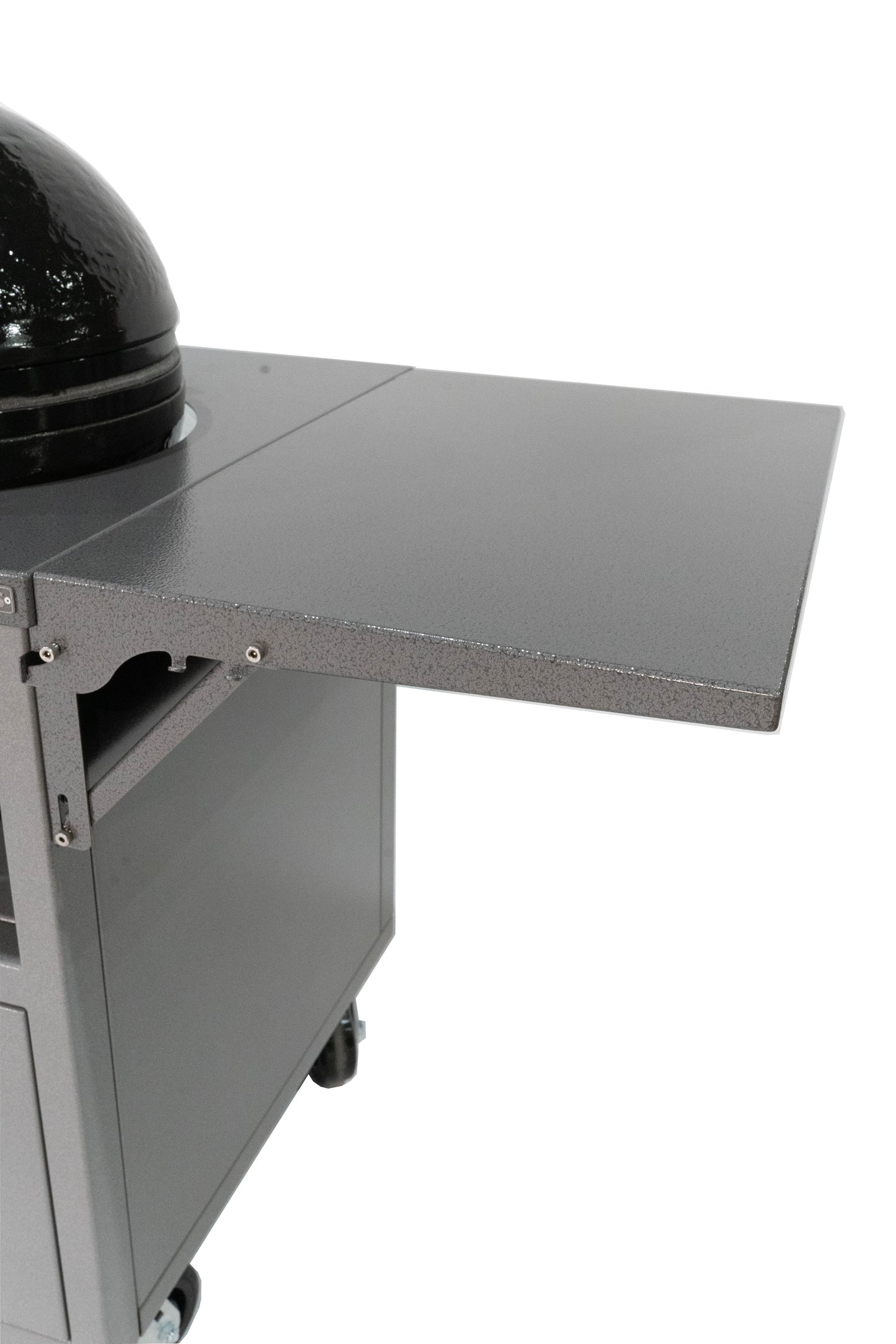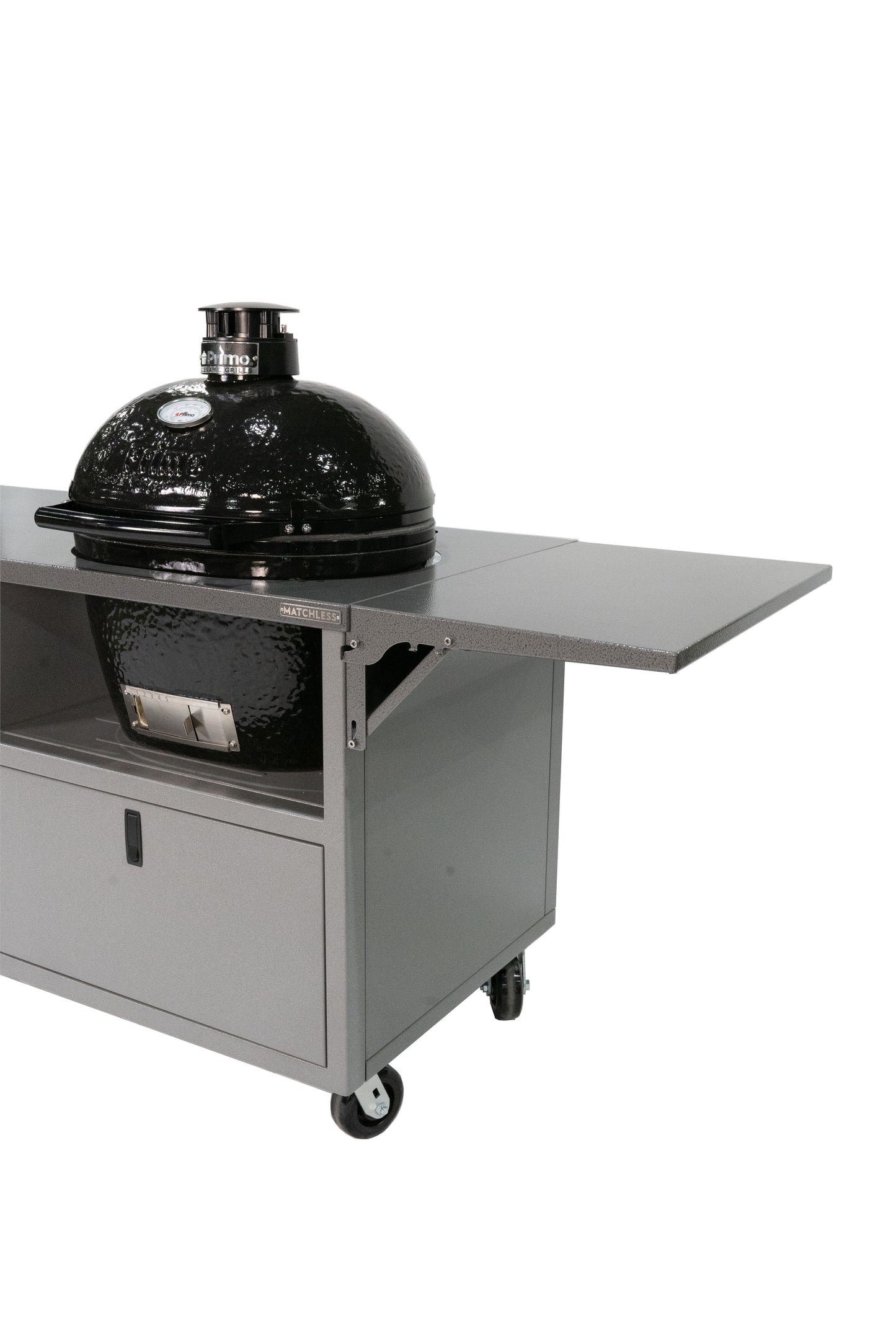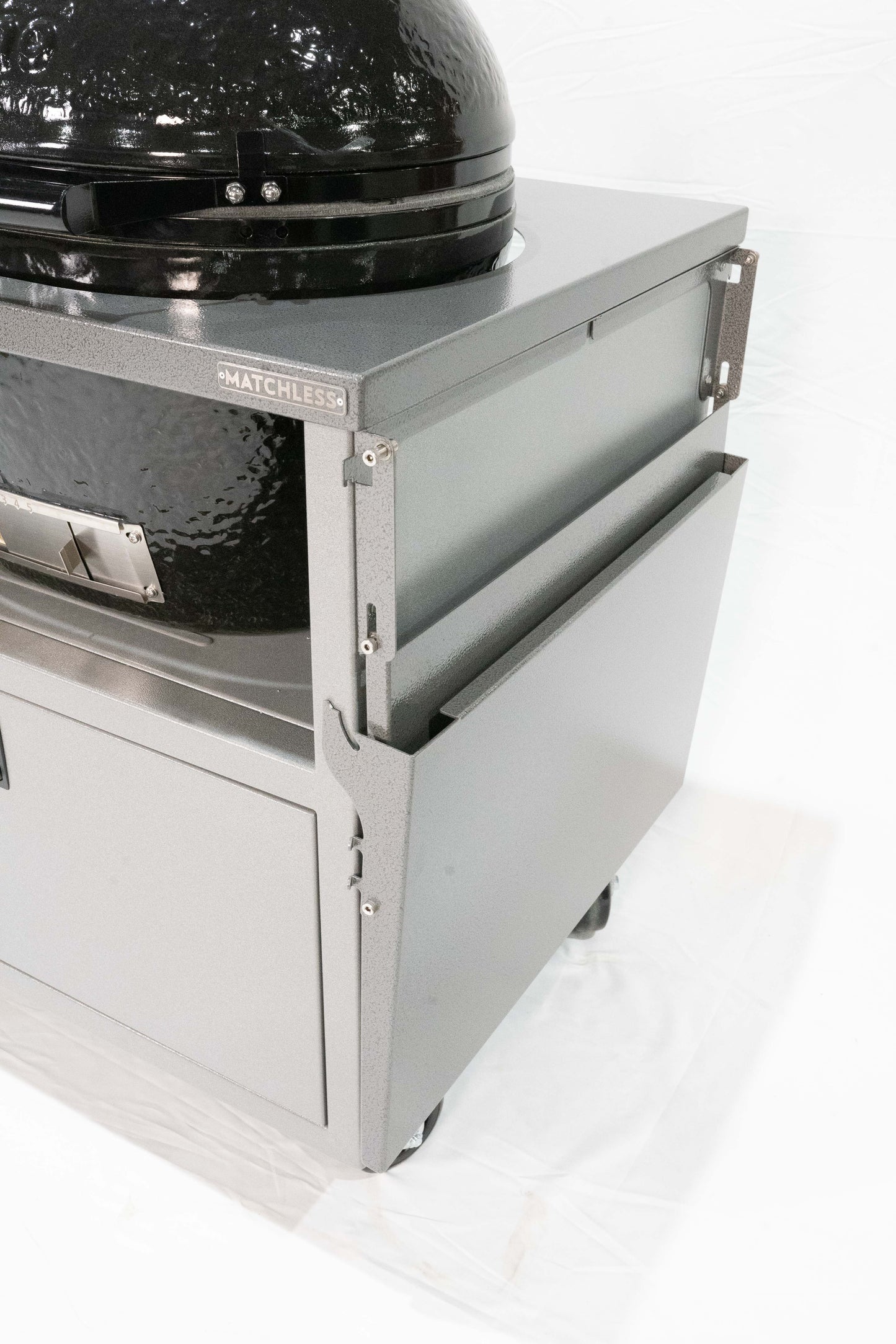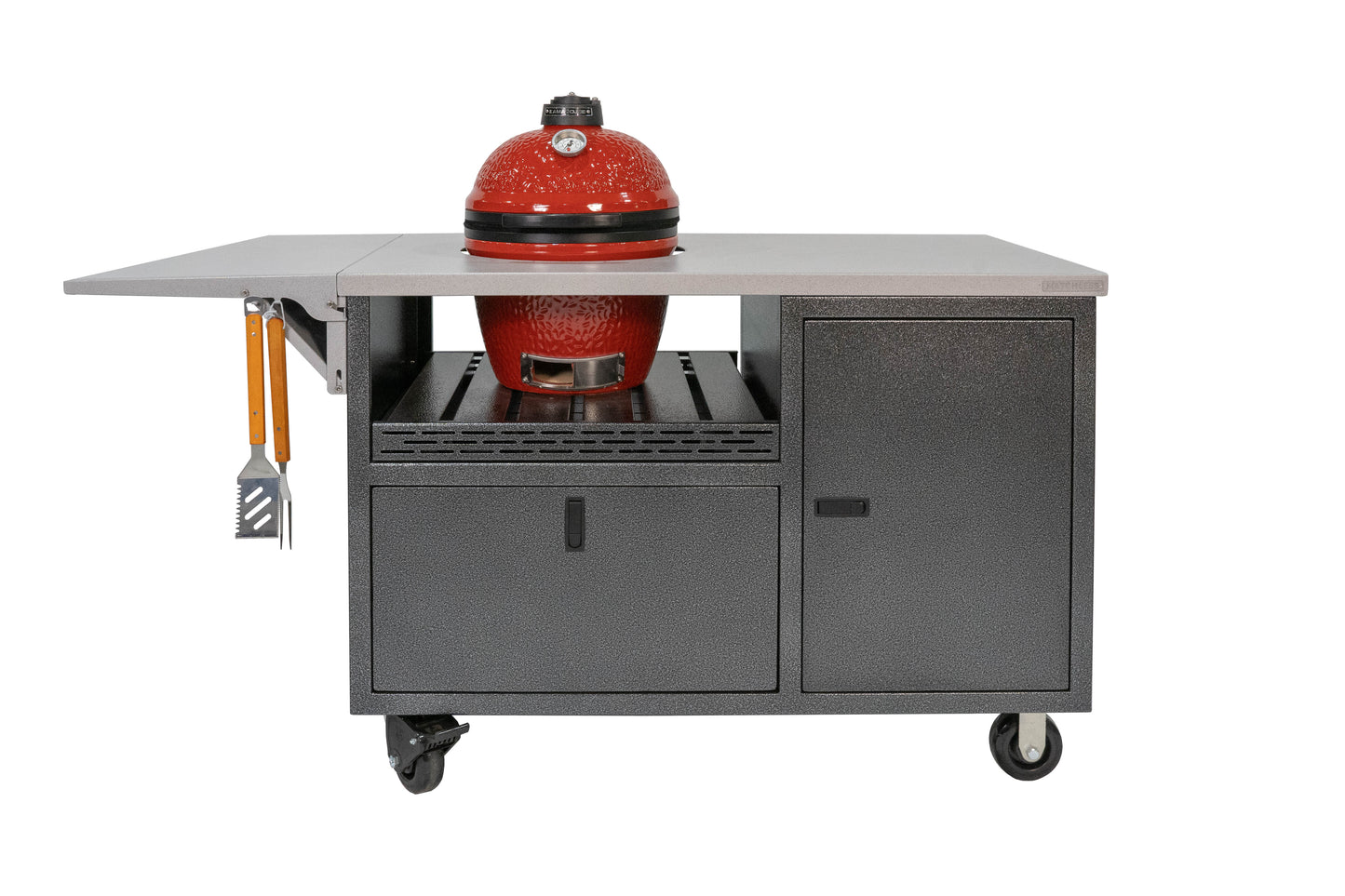 Great grill cart
Love this cart. I can move my green egg any where in the patio and I love that. Super functional, and it is very sturdy.
Best cart out there
I had a landscaper give me a quote to do an outdoor "L" configuration walkup kitchen for my Kamado Joe Big Joe III and it was over $30k. Decided to go this route for a fraction of the cost and I am super happy. Very well built. Doors and drawers have a great finish and the casters are huge. I added shelves to both sides and got the cover and I wouldn't do it any other way if I were to do it again.
Right Side Shelf
Easy enough to install with provided self-tapping sheet metal screws but no instructions were included which made the process a little concerning.
Seems a bit flimsy as the support strut does not engage the shelf beyond 50% of the length.
Hi JR - we've done a lot of testing on this and believe it to be fairly solid, but it's not meant to handle an excessive weight load.
Noted on the instructions - we are working on some. But, if you're having any issues, please reach out and we can help you through it.