Fusion Grill Cart
The Fusion Cart allows a quick and easy solution to put your favorite ceramic cooker and a gas appliance in one convenient package, that can go where you need to go.

Please pay careful attention to the details on ordering this cart, and specific requirements around gas grill and griddle support. 
BRAND AND MODEL SUPPORT - Kamado Grills
PRIMO
Oval Jr
Oval Large
Oval XL
Round
BIG GREEN EGG
Small*
MiniMax*
Medium Egg (w/ table nest)
Large Egg
XL
KAMADO JOE
Joe Jr
Classic Joe I, II, III
Big Joe I, II, III
BRAND AND MODEL SUPPORT - Gas Grills and Griddles
The Fusion Cart can support nearly any gas grill or appliance that fits within our maximum cutout dimensions. Please check with your manufacturer for cutout dimensions (insulating sleeves not needed).

36" Wide
25" Deep
12" High
For tabletop griddles (Halo, Blackstone, Camp Chef, etc) choose our "Tabletop Griddle Insert" in one of three sizes:

4" drop
6.25" drop
9.25" drop
The insert will be 36" W x 25" D.


FEATURES
Internal pullout utensil drawer
Internal pullout wastebasket drawer w/ wastebaskets. May be removed and converted to a regular drawer with the included modular shelf bottom.
Integrated bottle opener and paper towel holder
Ample room for grates, charcoal, and accessories
Optional folding side shelves
Powder coated aluminum construction, in any of our 12 colors
Made in the USA
5" ball bearing casters on 4 locking swivel wheels
Size: 87.5"W (85" counter) x 29"D x 36"H
Free Shipping to the continental United States
*Requires use of included Ceramic Grill Shelf Riser
**Requires use of Big Green Egg Table Nest (not included) or Ceramic Grill Riser
Color Choices
See color combinations and order samples here
Cleaning and Care Instructions

Regular cleaning and maintenance promotes the beauty and longevity of your products and ensures a lifetime of use.

We recommend regular care and cleaning of your products to promote product life.

Routine cleaning can be accomplished by rinsing away dirt and debris. Follow this by gently wiping with a damp, non-abrasive cloth or sponge using warm water. Follow this by towel drying to prevent water spotting.
If additional cleaning is necessary, mild soap can be used. Caution – the use of solvents, abrasives, or dish washer detergent will damage the product's finish.
Always test any cleaning solution in an inconspicuous area before applying to the entire product.

Do not store objects on the surface for any extended periods of time as these can trap moisture and debris.


Do not place hot items on any part of the finished surface. Damage created by hot items can be minimized by cleaning and buffing,but will typically never be eliminated. This type of damage will not be covered under warranty.


CAUTION – Ceramic materials and other abrasive textures can cause damage to the painted surfaces.


CAUTION – Take care to never let hot ash come in contact with the painted surface of this product. In addition, wet ash can become corrosive over time, so keep all surfaces free of ash debris.


CAUTION – Appliance and stainless steel cleaning solvents are harmful to your Rock Run Cabinetry product's finish and should not come in contact with the surface at any time. Take care to spray the solvent onto a cloth and wipe only on the appliance surface.

Minimize the natural aging of your product by storing your cabinet in a dry, shaded area to reduce fading. Please contact your dealer for details.

Light or superficial scratches to the finish are likely to occur during normal use and do not affect the integrity of the product.
Shipping

Most Matchless Cabinet orders ship by Less-than-Load freight.

Items not eligible for free shipping will have shipping calculated and added at checkout.
Warranty Info

The following information applies to products manufactured by Rock Run Cabinetry and sold by Matchless Cabinet.

 

Rock Run Cabinetry - Limited Lifetime Warranty

Rock Run Cabinetry LLC warrants to the original consumer purchaser,
for as long as they own their cabinet, that products shall be free from defects in manufactured materials and workmanship under normal use.


GENERAL WARRANTY GUIDELINES


Should Rock Run Cabinetry LLC products fail during the applicable warranty period due to defects in manufactured materials or workmanship under normal use and in compliance with our Cleaning and Care Instructions, Rock Run Cabinetry LLC, in its discretion, will provide the parts necessary to repair or replace the defective products.


The warranty does not cover products that are misused, abused, mishandled, improperly cleaned, improperly installed, improperly stored, modified or act of God. This warranty is not valid for products used for any
purpose other than the purpose for which they were originally intended. This warranty does not cover the cost of installation, removal, subsequent damage or transportation of defective product, regardless of whether the work was performed by a contractor, dealer, or the consumer.


Rock Run Cabinetry LLC finishes are premium exterior grade finishes. Over time, color changes may result from exposure to light and other elements that are part of the aging process. These material variations and changes are not covered by this warranty. Rock Run Cabinetry LLC warrants to the original consumer purchaser that its finishes are free from defect, including flaking, peeling, cracking, or massive discoloration for a period of 3 years, from purchase, under normal use.


Rock Run Cabinetry LLC reserves the right to provide parts for repair or replacement of the defective parts and substitute any discontinued product with the most similar product in styling, finish and color available at the time the claim is submitted without the obligation to provide product to match items previously manufactured by Rock Run Cabinetry LLC.


Rock Run Cabinetry LLC, at its discretion, will cover freight costs.
All parts are not manufactured by Rock Run Cabinetry LLC are warranted for the period provided by the original manufacturer. These parts typically include most accessories. Please contact Rock Run for details.
The warranty is an exclusive warranty of Rock Run Cabinetry LLC and is in lieu of all other warranties, expressed or implied. In no event shall Rock Run Cabinetry LLC be liable for consequential, indirect or incidental damages resulting from the installation, use or failure of the product. Rock Run Cabinetry LLC reserves the right to change or modify this warranty at any time.
Some states do not allow the exclusion or limitation of the incidental or consequential damages, so the above limitations or exclusions may not apply to you. This warranty gives you specific legal rights, and you may also have other rights that vary from state to state.




Warranty Claims

Warranty Claims should be submitted directly to Rock Run Cabinetry.
Price
Regular price
$2,999.00 USD
Regular price
Sale price
$2,999.00 USD
Unit price
per
Choose your options:
Share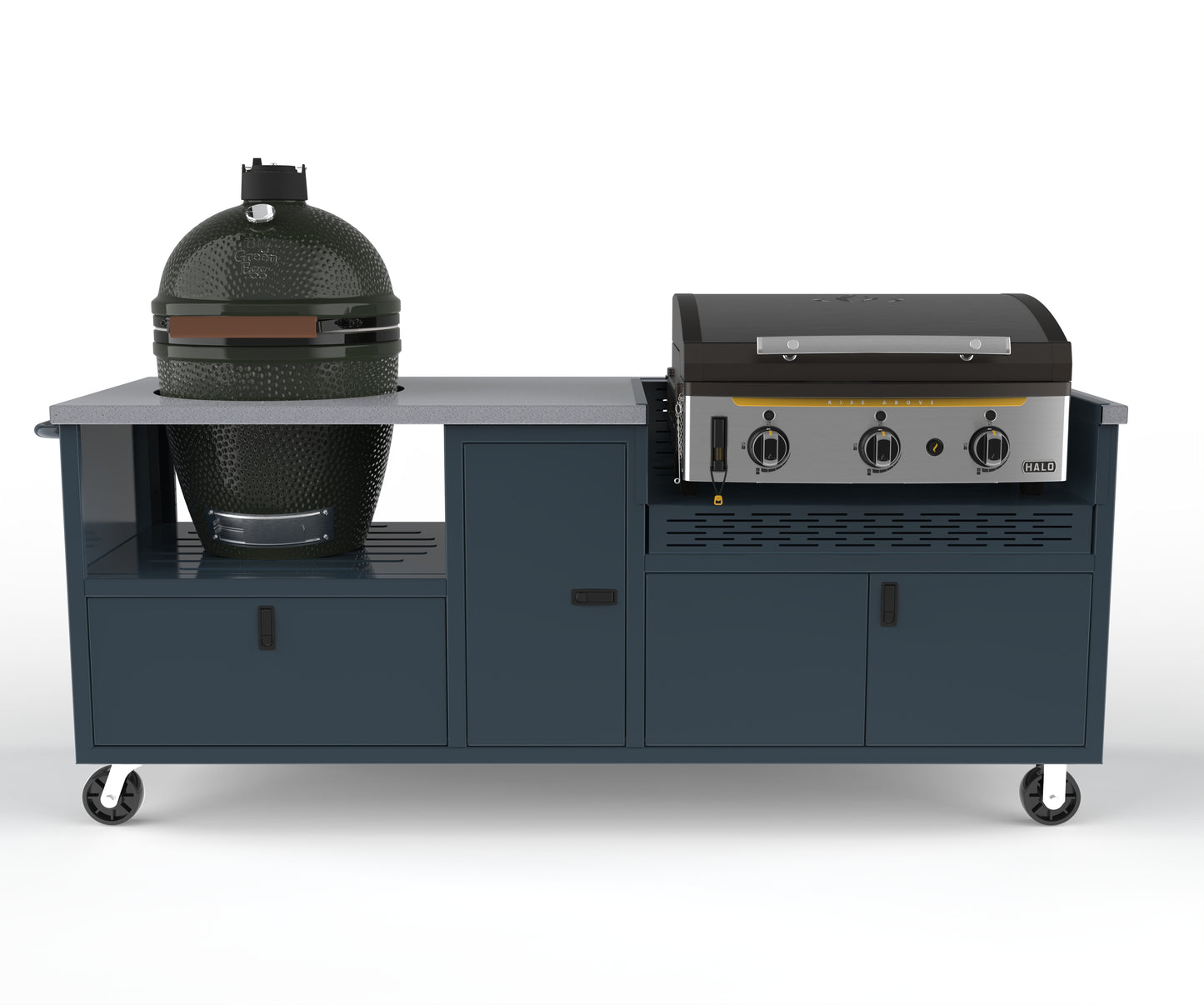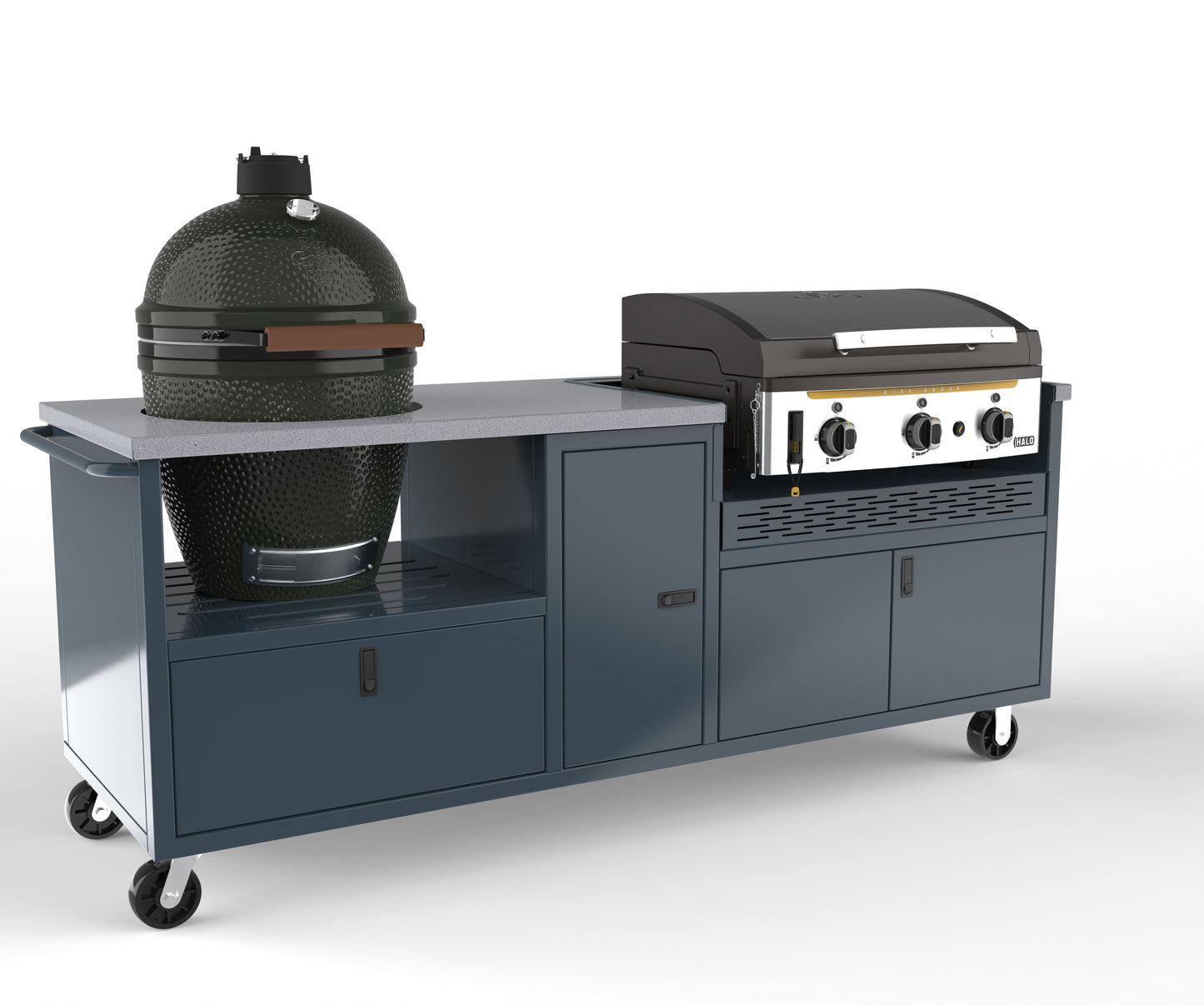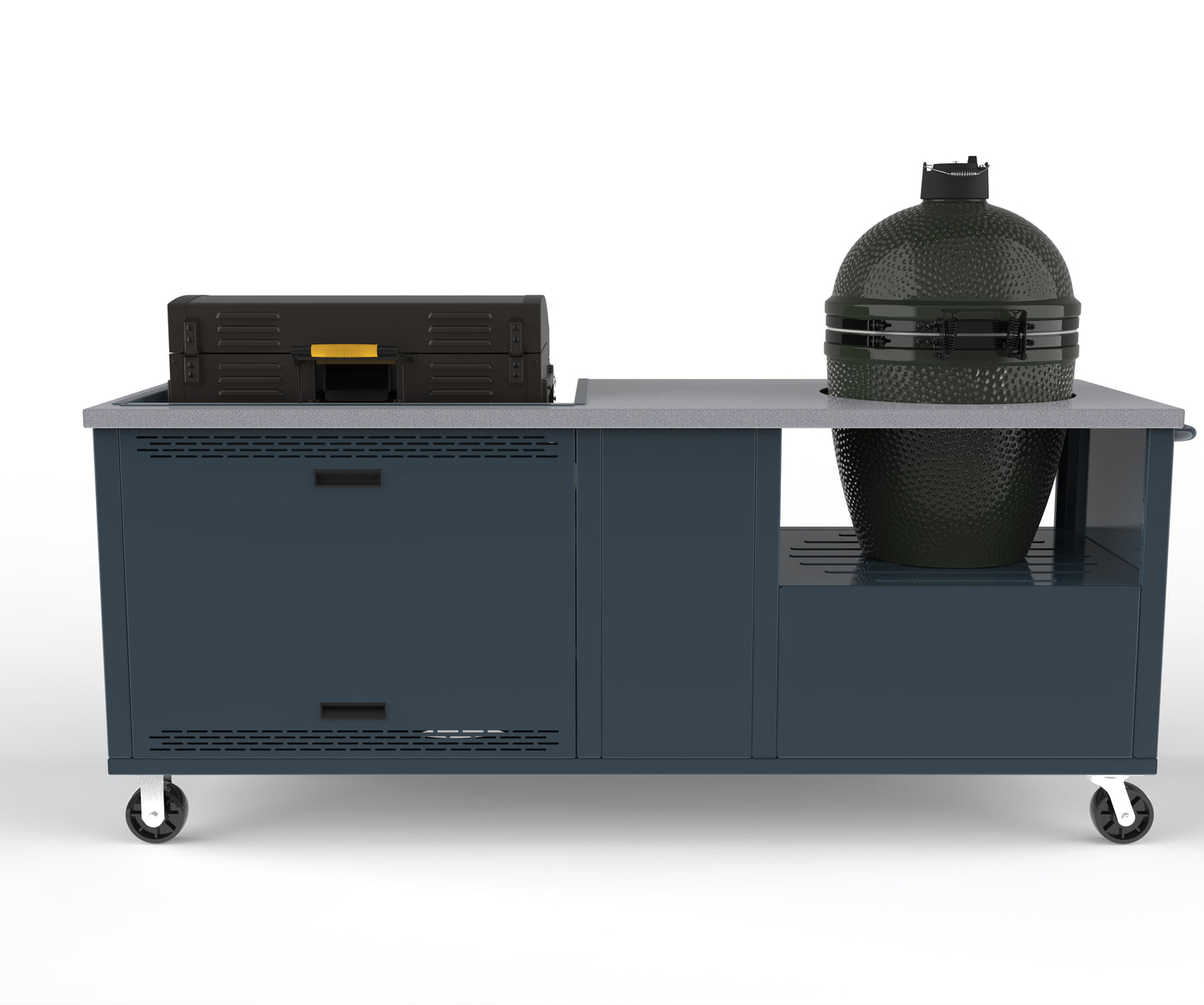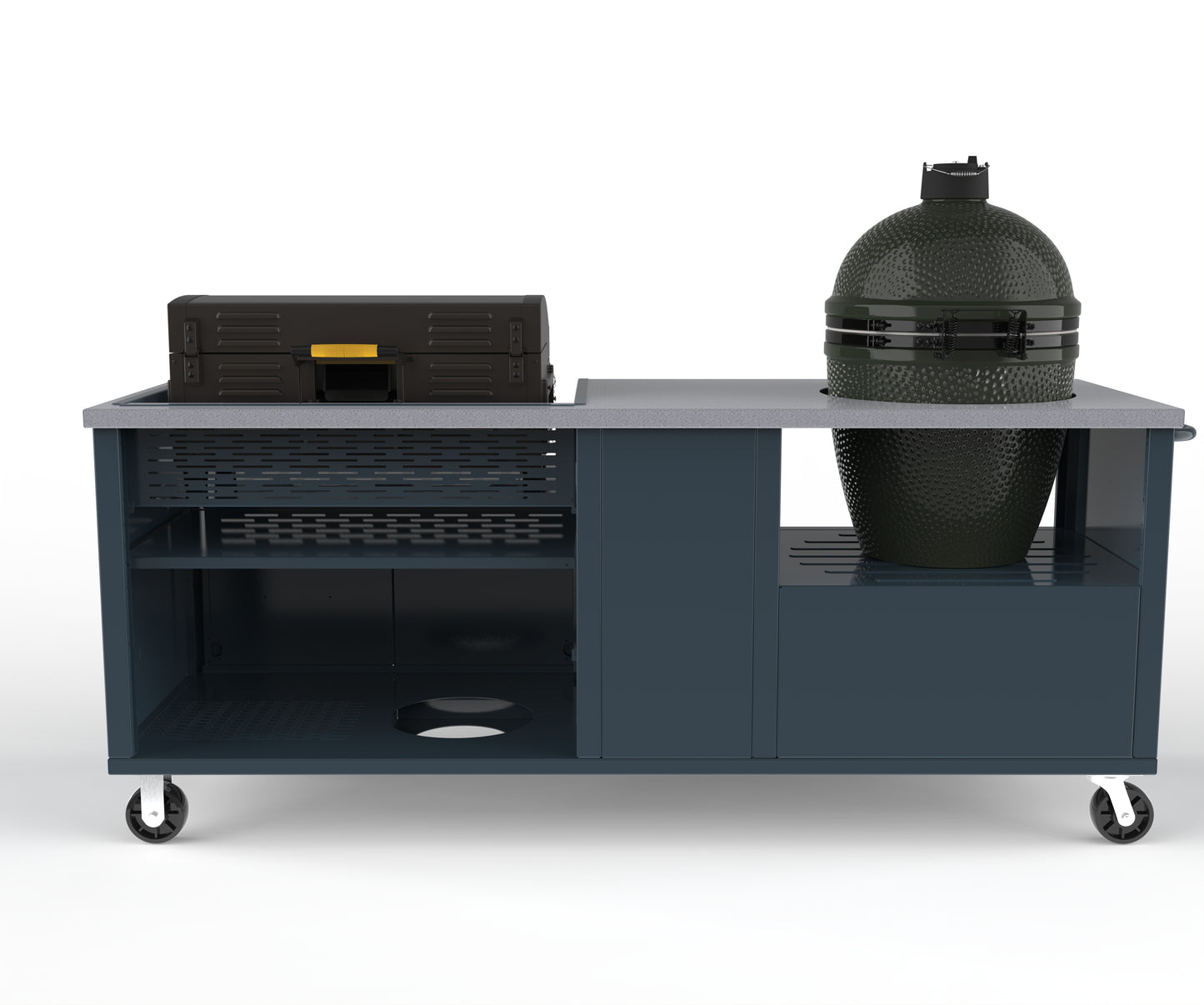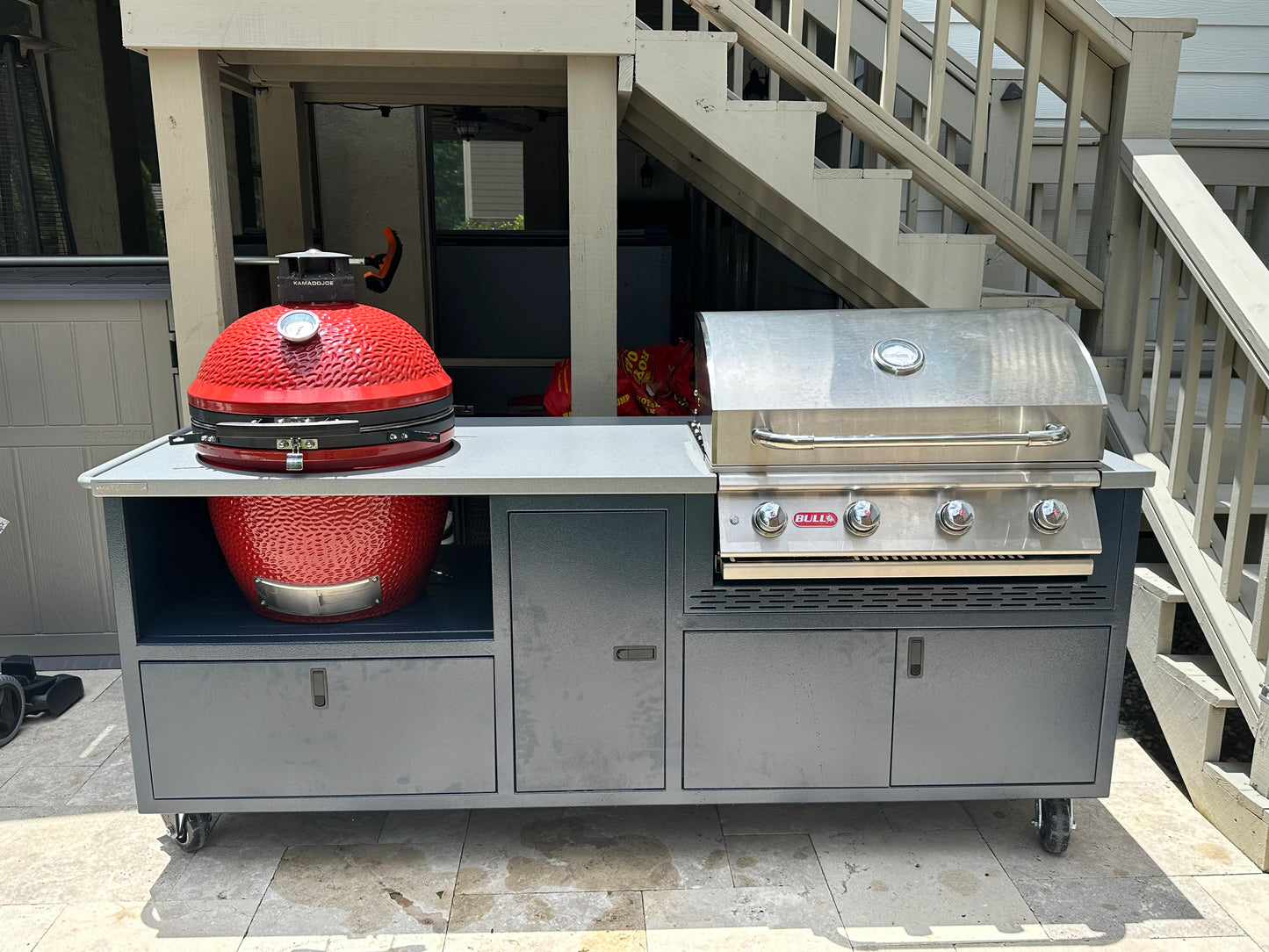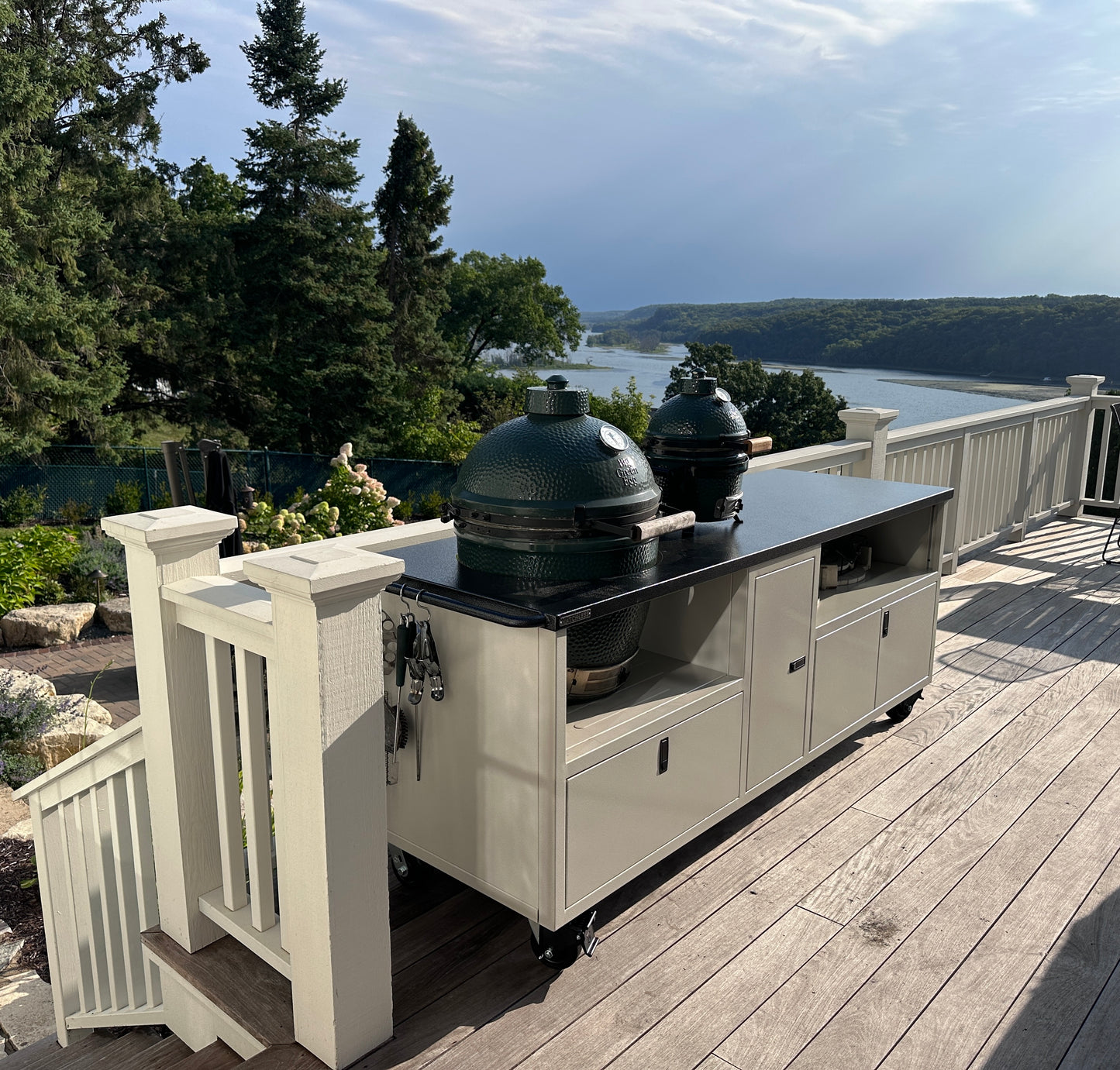 Better Than Expected
It arrived sooner than expected. I was told 5 to 6 weeks and it only took 3 weeks!! It is heavier duty than I thought it would be. The colors are perfect. It looks great and just fits under the stairs for storage. The wheels are awesome and make rolling around easy. I wish I had put more thought into where to put the locking wheels. I should have put them both on the front. The latches are great. I like the positive feel when closing. The shelf came with everything needed to install it. Installation was easy with an impact driver. My friend that helped me move it to my back yard liked it so much he is going to look into getting one for his Evo.
The only thing that would make me like it more is if there was a way to put drawers or doors under where the Ooni sits. It works well as a place to put items when I am cooking but would like the added storage.
Great Quality Outstanding Service
We were the first ones to buy a combo Ceramic Cooker (Primo Oval XL) with a Griddle (Halo 3B) Cart. Looks fantastic. Cabinets and drawers well thought out. Quality materials. Cover fits great. Great customer service!
Preliminary Review After Unboxing
All I can say is wow. My wife heard me say that as I unwrapped it outside her office window. She thought it was dented. But no, I was just happy with how it was packed and I only had to put on the 4 caster wheels. These things are massive and roll over my paver driveway with ease. Like can push the whole cart with your fingers ease.
Everyone at Matchless responded to questions right away and were more than helpful even when deciding color. They recommended the blue speckle as one of the top choices due to its smooth surface. It looks almost like stone from a distance. For the body I went with the Silver Vein and it's a dark color that takes on different appearances in the light.
I ordered early and am in the middle of building a deck. This thing got here before my deck boards so pictures and a review of its functionality will be a while but I am beyond happy with the quality and the whole process. It wasn't cheap but it's well made and the other options I saw just weren't it or were far more expensive and built in only. I wanted the cart to be able to move if needed. The only thing I wish I had was more surface space. The cut out for the halo 3b and large bge don't leave a ton of space (enough to set items down when cooking) but more room would be needed for things like a pizza. Maybe the add on side table is in my future or another product entirely.
More to follow when it's operational.
Fusion Grill Cart 👍👍
The Matchless Fusion Grill Cart perfectly fit my needs. I wanted one solution to my grill set up that would provide storage and flexibility to relocate. The matchless cart itself is really attractive. The casters glide with ease. It's easy to clean. It provides a tremendous amount of storage. I have several grill gadgets and this thing fits everything! I am really happy with the amount of space between the grills for prep work too.
Matchless was very responsive when I had questions about the cart. I found the price to be very competitive vs other similar options on the market. I had a snag with one of the drawers and matchless showed that their customer service was solid. Very quick to remedy my concern.
It's my belief that an egg and a griddle are the most dynamic duo in the grill game. The Fusion cart makes this combination even more fun to use. Thrilled with my purchase.